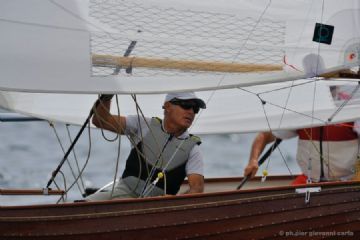 Dear Pieter,
I've read Your blog Site 12footnews.
I would like to thank You for Your interest about the Italian Dinghy 12' Class and for the Wooden Classic section that I'm honoured to lead after Giuseppe La Scala.
I'm very interested in what our Dutch friends really think of us.
We share the passion for classic boats and this is the reason why we must not forget the marine ethical code which belongs to our style of life.
Without any doubt, I believe that most of Italian dinghy sailors would like to share friendship and wellness with foreign competitors so, first of all, You should respect the Italian dinghy 12' way.
Our history is not worse than the Dutch one, it is just different.
The italian wooden boats are essentially the same from the beginning. Our rule has sligtly changed during the years and we've introduced the fiberglass construction in order to save the class when lots of sailors abandoned dinghy 12' to sail other fiberglass boats.
For example, Lodoletta, a truly wooden veteran dinghy 12', built in 1929 and recently restored is perfectly in compliance with the rule of her age and still screamingly fast.
In the 50's and 60's the italian dinghies were sophisticated and their construction was an example of art in wooden boatbuilding.
The history of the Italian Dinghy 12' Class is quite similar to the history of the International Dragon Class.
The Dragon was designed by Johan Anker in 1929 and the Class introduced fiberglass hulls in order to survive when all the world was asking for it, and now it is strongly increasing year by year.
You surely know that the finest sailors of the world are racing Dragons and the International Dragon Class is now one of the best and more competitive classes of the world.
The Dragon sailors race wooden and fiberglass boats together, all of them with aluminium rig and at the last European Championship in San Remo (Italy), the wooden boat "Debuttant" built by Pedersen & Thuesen in 1959 won overall.
Same story for the Wianno senior Class (John Fitzgerald Kennedy's beloved boat) best diffused in the USA.
Dinghy is of course quite different from a Dragon, but our wooden dinghies are almost as fast as the fiberglass boats and in some races they do win. A wooden boat tillered by Paolo Viacava won an Italian Championship some years ago.
My personal opinion is that a wooden dinghy with an aluminium rig is as fast as a fiberglass one with the same rig. But this is just an opinion never supported by experience.
Anyway, as You can easily understand we are very proud of the development of our boats and consequently (though the Dragon Class uses aluminium rigs) we want to continue to race with wooden rig because we love classic wooden boats.
I race dinghy 12' but I have a good experience of vintage and classic boats races in the Med. I raced Al Na'ir III which is a S&S boat built 1964, 47 feet loa and won the Prada Challenge for Classic Yachts in 2002, second in 2003 and I won The C.I.M. Challenge for Classic Yachts in 2004. I still own Al Na'ir and in 2014 we won the Barcolana Classic in Trieste. I also raced Sirius, a N.Y. 32, 45 feet loa, built in New York by Nevins and designed by Olin Stephens in 1936, second in 2007 Panerai Classic Yacht Challenge and winner of Trofeo Città di Trieste in 2012. Last but not least I own a wooden Dragon that I'm restoring.
I'm telling You all this because I would like You to know that You are not the only one who loves classic boats. I would like You to understand that I strongly want to preserve the classic spirit of our boats Dinghy 12' but, at the same time, I want the boats to be both amusing and performing. This way surely attracts young entusiasts and let the Class grow up.
We have a stunning racing circuit reserved to wooden dinghies with five races and many other races with a special classement for wooden boats. For example in the most competitive Italian National Trophy there is a special classement for wooden dinghies. Same thing in the Italian Championship. We really do like enjoing racing!
You wrote that we have only 70 wooden dinghy sailors.
The participation to a Race reserved to woodies has an average of 42 boats though there are much more than 70 wooden dinghy owners in Italy
Giuseppe La Scala worked very hard to increase the wooden dinghy fleet and I'll do my best to continue in his work.
I remember that, when we came to Holland for Your 100th birthday's meeting, You and some other dutch friends asked to come in Bracciano to race with us. We were very pleased and Giorgio Pizzarello invited You.
You also asked for italian wooden boats for You and Wim to be able to participate at the Bracciano event and You'll get them.
Nevertheless…… I've read that You do not intend to program friendship series in Italy, but only in Germany, France and Holland.
The Italians are not Your friends anymore?
You also wrote that some discussions about standardisation of dinghy took place between Holland and Italy but that did not reach any significant result.
It is true because You don't want in any way to optimize your boats for racing conditions different from yours.
Infact in Bracciano and in Venice Dutch boats were near to win because of water and weather conditions.
I wrote of classic boats that modernized their equipment in order to satisfy their sailors. This is the reason why we don't use cotton sails or ancient ropes anymore. Is it a crime?
I'm quite sure that if You optimize Your boats You can easily compete with ours. Think about Giorgio Pizzarello who owns a dutch dinghy and races her in Italy.
When we came to Loosdrecht we were not so fast as You because of our sail plan, not because of our boats!
When You write that nobody wants to put water into wine You should think that those who really want to enjoy racing a dinghy, must work on the boat and trim to manage to get just wine.
I think this is the spirit of the whole world of classic and vintage boats used for racing.
Last but not least, I believe that the international development of the Dinghy Class passes through the national Organizations, so what I wrote to You is just my personal opinion. Nevertheless I'll be very pleased if You could publish it on Your Blog Site. I'll do the same.
See You in Bracciano or maybe before in a friendship series if the Italians are invited.
Best regards
Fabio Mangione
AICD – Classic Dinghy 12' Delegate
---
Traduzione Italiano